The Best 5 Dog Parks in Santa Clarita, CA to Visit with Your Pet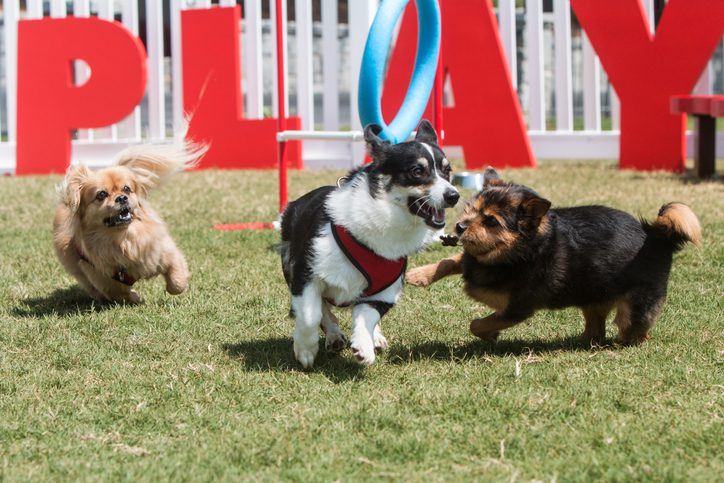 Dog parks are a really important way to help manage your dog's well-being. Santa Clarita has a plethora of dog parks for your dogs to play. Dogs need to play and socialize to be happy, and many people do not have access to a yard for their dogs to enjoy. This can lead to all kinds of destructive behaviors that you definitely want to avoid.
Heading to the dog park can be a really fun break for you as a dog owner as well. There is something peaceful and pleasant about being able to sit in the sun and watch your dog play. The dog parks on this list will help you and your dog to take a break when you need one. Santa Clarita is a lovely place, and the dog parks here are some of the nicest areas in the city, which is great for dog owners wanting to take their pets out for some fun!
Here are the best dog parks in Santa Clarita, CA to check out with your pup:
1. Central Bark Off-Leash Dog Area
Central Bark is a 1.3-acre area near the back of the Central Park in town, and there are multi-use fields nearby as well. You have the benefit of a small dog area here as well as a large dog space, and your pets can be off-leash when they visit. This is a really nice dog park that is well-kept, with hours from dawn until dusk each day.
If you want to enjoy a walk through the multi-use areas, this is allowed as well. Your dog will just need to be on a leash while you visit these parts of the park. This is a great location for you and your pet to enjoy a nice afternoon or an early-morning play session. Being able to head here throughout the day is a really nice benefit of this location for you and your dog's needs.
2. Canine Country Off-Leash Park
Canine Country Off-Leash Dog Park is a great on and off-leash park that offers lots of opportunities for socialization. You have access to dirt and grass spaces here, and you and your dog can enjoy watching the nearby skatepark and all of its activity. If you are looking for a great place for your canine friend to make new buddies, this is a good choice.
This location offers lots of shade and places to sit, as well as water for your dog to help them cool off. The fencing is safe and secure here, and big dogs will not be able to get to parts of the park that they are not welcome in.
3. Bark Park
Bark Park is a simple space that is mostly just some fences and some grass and trees. This is still a good option if you want to take your dog to a place to let them off-leash and allow them to fetch or meet some new friends. There are no real amenities here other than the poop bag dispenser and garbage can, but sometimes that is all you really need!
If you are looking for fancier options, there are certainly options available to you in Santa Clarita, but this is a good location for some easy access to green spaces and activity. Even if you don't have access to the fancy stuff, your dog can have lots of fun here with ease. Remember to bring toys or a ball with you for some added stimulation for your pet.
4. Corriganville Park
Corriganville Park is not technically a dog park, this is a really great option for people who love to hike and high-energy dogs who need a little on-leash challenge for their activity of the day. This is a beautiful multi-use spot that offers access to groomed trails and hiking, as well as common areas that are perfect for just hanging out.
You will get a lot of opportunities to socialize your dog here as there is always a lot going on. This is a good place to spend part of a weekend day, and you will love that this is a groomed and large park with all the amenities in it. This is probably one of the most scenic areas in Santa Clarita, and you and your pet can enjoy it any day that you have time to pop in.
5. Copper Hill Park
Copper Hill Park is a very nice common-use park that offers on-leash dog spaces. You can enjoy play structure with kids and family members, and there is a lot of shade. There are no good seating areas here, but you can bring blankets if you want to take a break.
This is a really cozy and comfortable spot that will serve the needs of all of the people in your family. Your dogs will have lots of fun, and your kids or friends can come to hang out with you as well. This is a good choice for a mixed-use experience that will be a lot of fun for everybody!
Santa Clarita Offers Some Great Dog Park Options
Santa Clarita is a really beautiful area, and there is no shortage of nice places to visit with your dog. You will have access to lots of great multi-use parks that are listed here, but you can always choose to focus on dog-specific parks. Taking care of your canine friend is easy when you use the dog park to help them get the wiggles out every day!
It is common practice to make sure your dog is healthy before socializing them with other dogs. Before taking your dog to the dog park, reach out to your vet or call Stevenson Ranch Veterinary Center at (661) 799-0655 to make sure your dog is healthy and all of their vaccinations are up to date.
Check Your Pet's Records
Look no further, PetDesk allows you to view your Pet's Health information, appointment reminders, etc.
Log In
Let's Go Shopping
Need a refill on vitamins, food, etc for your pet? Check our our online store.
Shop Now
Book an Appointment
Looking for Veterinary Care? Stevenson Ranch is a place that you can your pet can depend on for exceptional care.
Visit Us